The 13th New Energy Vehicle Technology Forum 2022 had been Successfully Concluded
The 13th New Energy Vehicle Technology Forum 2022, organized by China Star Consulting Company was held on November 29th-30th at Shanghai has come to a satisfactory close. During the conference, a total of more than 24 authoritative guests at home and abroad conducted a two-day constructive and creative discussion on Power Battery Technology, Thermal Management and Battery Safety、Electric Drive Technology of New Energy Vehicles. The conference brought many bright spots, the atmosphere was unusually warm, and all the guests enjoyed it.
The organization of The 13th New Energy Vehicle technology Forum 2022 has been widely concerned in the industry, and its growth and glory are inseparable from the strong support of all parties, so we would like to highly thank all the participants, sponsors and media friends for their support and participation.
The following are some live photos: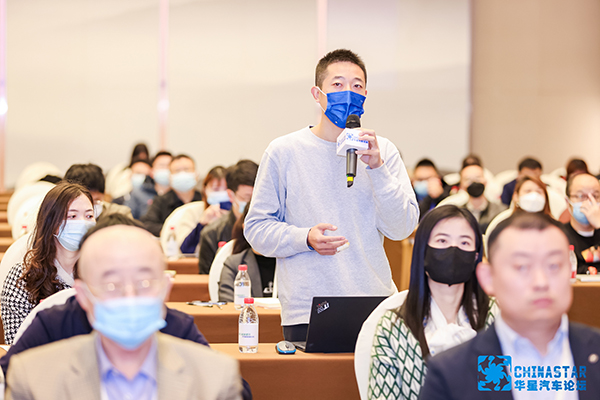 The speakers gave a wonderful reports and speeches during the two-days conference.
Welcome Address from Specially Invited Sponsor
General Manager of Passenger Car Lubricant Sales in China, ExxonMobil
Chief Engineer of Powertrain Technology, Dongfeng Motor
Speech Topic: Diversified development trend and innovation of powertrain under the background of dual carbon
Motor Control Director of Electric Drive Business Department, SAIC MOTOR R&D INNOVATION CENTER
Speech Topic: Key technologies on the 800V drive system software
Technical Solution Consultant of China Lubricant Products, ExxonMobil
Speech Topic: ExxonMobil Electric Vehicle Fluid Solutions
Senior Marketing Manager, C*Core Technology Co.,Ltd.
Speech Topic: The Breakthrough Development of C*Core Automotive Electronic MCU in the Field of Automobile body and Automobile power
Vice President, Business Field Electrification, AVL List GmbH
Speech Topic: Highly efficient BEV and super-fast charging, a contradiction?
Manager of Thermal Management Engineering Department, Gotion
Speech Topic: Brief analysis of power battery thermal management and thermal runaway
New Energy Project Manager, Ningbo Jintian Copper (Group) Co., Ltd.
Speech Topic: Application of new energy flat wire in 800V high-voltage new energy drive field
General Manager China, Vice-President Operations, Silicon Mobility
Speech Topic: Silicon Mobility OLEA® end-to-end automotive solution - Unleashing xEV Performance
Senior R&D Expert, Zhijiang New Energy Power Battery Adhesive Solution
Speech Topic: Zhijiang New Energy Power Battery Adhesive Solution (Speech Online)
Control System and Calibration Director of The Extended Range Electric Vehicle, Enovate
Speech Topic: Whether the extended-range technical route is backward?
Vice President, General Manager of Lithium Battery Industry, Guangzhou Greater Bay Technology Co.,LTD
Speech Topic: The path to overcome anxiety in EV's charging:XFC(eXtreme FastCharing)Technology
Professor, Chief Expert of Power System, NEVC
Speech Topic: Leading edge technology of automobile drive system electrification
President of Energy Storage and Power Battery Research Institute, Great Power
Speech Topic: Power battery fast charging solution (Speech Online)
Senior Business Development Manager, Future Electronics
Speech Topic: New Energy Vehicle Electric Drive Scheme and Supply Chain Support of Future Electronics
Chief Power Battery Thermal Management Expert, Sunwoda Electric Vehicle Battery Co., Ltd.
Speech Topic: Optimization of thermal management system and its application in improving battery safety
Thermal Management Manager, REPT
Speech Topic: Development of integrated liquid cooled battery PACK and thermal management system
Deputy Director of Battery Thermal Management Development, Hozon New Energy Automobile Co., Ltd.
Speech Topic: Analysis on the thermal management technology of fast charging power battery (Speech Online)
Consultant Expert, China Automobile Technology Research Center, China Automobile Data Co., Ltd.,
Speech Topic: Coordinated development of new energy vehicles and charging infrastructure under the dual carbon target
BMB, Chief Engineer, FEV China
Speech Topic: FEV NVH Development Approach for BEV
Business Development Director, Protean Electric (Tianjin) Co., Ltd
Speech Topic: Using In-Wheel Motors to Achieve Modular 4WD Platforms
Project Manager, APG-ELAPHE Propulsion Technologies CO., LTD
Speech Topic: Current situation of hub motor industry
Project Manager, Technology and Innovation, Vitesco
Speech Topic: Advanced 800V High Voltage Integration Solution
Partner, Roland Berger
Speech Topic: New energy market trends and battery full chain development trends
Thanks again to the sponsors for their support of this event:
ExxonMobil, C*Core Technology, Jintian, MISUMI, Silicon Mobility, Hangzhou Zhijiang, Future Electronics, Ningbo Songke, Alkegen, JingYuanJianSan Electronics, Kinte Materials Science and Technology, Kunshan SVL Electric, SHENZHEN JDD, Sunwoda, Shanghai Yingshuang Electric Machinery, EIS.
The 14th New Energy Vehicle International Forum will be held in Shanghai from March 23th to 24th, 2022. Looking forward to your participation.
Contact Us: Catherine 0755-23300049; catherine.tan@star-sz.com
Event Web:http://www.star-sz.com/nev