The Vice President of BMW R&D China Confirmed to Attend the 12th New Energy Vehicle International Forum 2022 and Give a Speech
---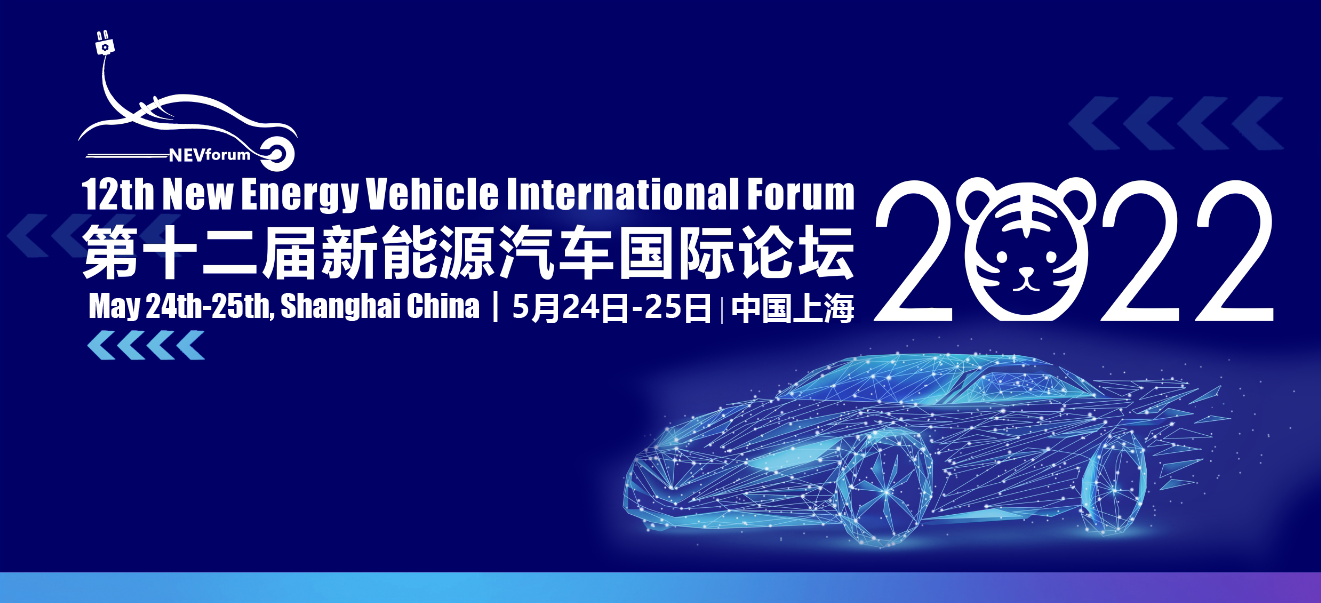 The "12th New Energy Vehicle International Forum 2022" organized by China Star Consulting Company will be held in Shanghai from April 12th to 13th.
Dr. Wilfried KLECZKA, the Vice President of BMW China R&D Center will attend this conference and deliver a speech. The topics and brief introduction of his speech are as follows:
Sustainable Electrification– The BMW Way
Bullet Point:
Ø BMW integrated approach on sustainability and long term targets
Ø Complete view on value chain and life cycle
Ø Sustainability highlights BMW iX
Ø Battery cell as key component
Ø Trends in cell and battery development
Speaker: Dr. Wilfried KLECZKA, Vice President, BMW R&D China
In addition, Geely, Jaguar Land Rover, GWM , WM, ENOVATE, Dongfeng, GOTION HIGH-TECH, JEVE, etc. have all confirmed their attendance at this conference and delivered speeches. With the joint efforts of all delegates, this conference will become a grand event in the new energy vehicle industry.
And industry experts and leaders are sincerely invited to attend this conference to discuss the core technologies and development trends of new energy vehicles.
Part of Our Confirmed Speakers Include:
Dr. Wilfried KLECZKA, Vice President, BMW R&D China
DOU Guowei, System Control Chief Engineer, ZEEKR
HUANG Zhenyang, Chief Engineer of Hybrid Drive Department, GWM
CONG Wangjun, Cost Engineering Manager, Propulsion System, Jaguar Land Rover
HU Hongkui, Electric Control Supervisor, Changan Ford
WANG Hongjun, Control Expert of Battery, Motor & Electric Control Industrialization, WM Motor
LI Yantao, Director of Battery System Development Department, ENOVATE
YU Qiushi, Deputy Chief Engineer of New Energy and Power Center, Dongfeng Motor
LI Shucheng, Battery Expert, XPENG Motors
Zhang Wenhui, Electric Drive Expert, FOTON
LI Kai, Hybrid Development Expert, SAIC MAXUS
CAI Jinshu, Vice President, EVE Power
TONG Bang, Deputy manager of Engineering Research Institute, GOTION HIGH-TECH
MA Hua, Vice president of the Research Institute, JEVE
YANG Daojun, General Manager of R & D Center, RiseSun MGL
CAI Hongbo, Technical Director, Henan Lithium Power Source Co. Ltd.
LI Hanbin, General Manager of Marketing Center, Sunrise Power Co., Ltd.
YANG Lianghui, Head of Electric Drive Assembly Business Unit, NEVC
WANG Ying, Head of Hydrogen Fuel Power Division & CTO, China Automotive Innovation Co.,Ltd. (CAIC)
Zhang Tong, Professor, Director of Vehicle Engineering Department of CDHK and Director of Fuel Cell Vehicle Technology Research Institute, Tongji University
Wang Lei, Co founders & Senior Vice President, Wanbang Digital Energy Co., Ltd.
DAI Xianzhong, Director of Smart Grid Research Office, STATE GRID ENERGY RESEARCH INSTITUTE CO., LTD.
Simon Chen, Regional Marketing Director, Infineon Technologies China Co. Ltd.
FENG Xuning, Director of Battery Safety Laboratory, Tsinghua University
…
Part of Confirmed OEMs:
| | |
| --- | --- |
| Company | Title |
| BMW China | Vice President, Research & Development Center |
| BMW China | Assistant Purchasing Manager |
| GWM | Chief engineer of vehicle control department |
| Hozon Auto | Battery thermal management engineer |
| NIO | BMO Sr. Director |
| NIO | Quality Director |
| NIO | Power management expert, electronic hardware development |
| NIO | Battery system expert |
| NIO | Senior battery system engineer |
| NIO | Battery system chief engineer |
| NIO | Expert of battery manufacturing and operation Department |
| BYD TOYOTA | Director of Development Department |
| BYD TOYOTA | Head of Development Department |
| BYD TOYOTA | Development Engineer |
| ZEEKR | System Control Chief Engineer |
| WM Motor | Control Expert of Battery, Motor & Electric Control Industrialization |
| ENOVATE | Director of Battery System Development Department |
| Stellantis | Propulsion System, Battery Integration Manager |
| Stellantis | ePS (Electrified propulsion system) DRE (Design release engineer) |
| Stellantis | Battery pack structure expert, body trim department |
| Stellantis | Body structure expert, body trim department |
| Stellantis | Metal material expert of material department |
| Stellantis | Non metallic materials expert of Materials Department |
| Stellantis | Senior manager of vehicle manufacturing department |
| Stellantis | Vehicle manufacturing welding Manager |
| Stellantis | Manager of vehicle manufacturing and assembly department |
| Stellantis | Vehicle manufacturing welding engineer |
| Stellantis China | Propulsion System Section Manager |
| Stellantis China | PRSC System Manager |
| Dongfeng Nissan | Assistant Minister of new energy development dept |
| Dongfeng Motor | Chief engineer of new energy and power center |
| Dongfeng Motor | Section chief of new energy department |
| SAIC Volkswagen | Product Planning of Audi Product Management |
| SAIC Volkswagen | Et Designer |
| SAIC Volkswagen | Engineer |
| SAIC Volkswagen | Senior manager of PVE MEB model management |
| SAIC Volkswagen | MEB new energy plant Battery Workshop Engineer |
| SAIC Volkswagen | Sample Center Engineer |
| SAIC Volkswagen | R & D Engineer |
| SAIC Volkswagen | R & D Engineer |
| SAIC Volkswagen | R & D Engineer |
| SAIC Volkswagen | R & D Engineer |
| SAIC Volkswagen | R & D Engineer |
| SAIC Volkswagen | R & D Engineer |
| SAIC Volkswagen | R & D Engineer |
| FAW-VW | Senior Manager, PM-Product Strategy |
| FAW-VW | Product Management Engineer |
| FAW-VW | Product Management Engineer |
| FAW-VW | Product Management Engineer |
| SGM | Project specialist of strategy and new business department |
| SGM | Project specialist of strategy and new business department |
| SGM | Drive system platform project manager |
| SGM | Senior manager of drive system planning |
| SGM | PTME project management |
| SGM | PTME project management |
| SGM | PTME project management |
| SGM | PTME project management |
| SGM | PTME project management |
| SGM | PTME project management |
| SGM | Senior manager of vehicle platform |
| SGM | Senior Manager of Product Marketing, New Energy Strategy Department |
| SGM | Technical manager of electrification product planning |
| SGM | Technical manager of electrification product planning |
| SGM | Product and new technology planning specialist |
| SGM | Electrification product planning |
| SAIC Motor | Transmission assembly manager |
| SAIC Motor | Senior engineer in charge of transmission |
| Saic Motor | Energy and weight management manager of Vehicle Integration Dept |
| SAIC Passenger Car Company | Powertrain material manager, quality assurance dept |
| SAIC Passenger Car Company | Material Engineer, quality assurance department |
| SAIC Passenger Car Company | Material Engineer, quality assurance department |
| SAIC Passenger Car Company | Material Engineer, quality assurance department |
| SAIC Commercial Vehicle Technology Center | Battery system integration application engineer |
| SAIC Commercial Vehicle Technology Center | Senior manager of powertrain and electrification Center |
| SAIC Commercial Vehicle Technology Center | Battery development and test engineer of electric drive assembly department |
| DPCA | Project chief engineer of Technology Center |
| DPCA | New energy product design |
| DPCA | New energy function design |
| DPCA | New energy project director |
| DPCA | Manager of environmental Parts Department |
| DPCA | Transmission department manager |
| DPCA | Powertrain new project supervisor |
| FAW Group | Product director, product planning and project management department |
| FAW Group | Product manager, product planning and project management department |
| FAW Group | Product manager, product planning and project management department |
| FAW Jiefang | Director of electric drive control system development |
| FAW Jiefang | Electric drive control system development supervisor |
| FAW Jiefang | Electric drive control system development engineer |
| FAW Jiefang | Senior chief engineer of electronic hardware design |
| FAW Jiefang | Electronic hardware design engineer |
| Faw | Electric drive system designer |
| BAIC BJEV | Senior Engineer of Battery Engineering Department |
| BAIC BJEV | Senior Engineer of Battery Engineering Department |
| JIDU AUTO | Air conditioning thermal management director |
| JIDU AUTO | Air conditioning thermal management system integration |
| JIDU AUTO | Air conditioning thermal management air conditioning parts |
| JIDU AUTO | Air conditioning thermal management control |
| JIDU AUTO | Air conditioning thermal management project and vehicle performance |
| Chery Jaguar Land Rover | Vehicle Integration Manager |
| Chery Jaguar Land Rover Shanghai Co., Ltd | PD Engineering Manager |
| Chery Jaguar Land Rover | Door Systems & body structure PVT Manager |
| Chery Jaguar Land Rover | Senior engineer of product development department |
| Chery Jaguar Land Rover | PT&NEV Sr. Engineer |
| Chery Jaguar Land Rover | PT&NEV Sr. Engineer |
| Chery Jaguar Land Rover | Vehicle performance integration manager |
| FOTON | Director of power system Institute, New Energy Research Institute |
| Volvo | Manufacturing engineering operation management manager |
| Volvo | Senior engineer, R & D / vehicle integration / general layout |
| Volvo | Vehicle integration project manager |
| Volvo | Senior Purchasing Manager |
| Volvo | R&D Scurm Master |
| Volvo | Senior Buyer Traction Battery Cell/Module | Procurement |
| CHANGAN AUTO | Deputy chief engineer of thermal management system |
| PATAC | Technical director of drive system department |
| PATAC | Senior technical manager of drive system department |
| PATAC | Senior manager of drive system department |
| PATAC | Engineer of preliminary Vehicle Development Department |
| PATAC | Thermal management design release Engineer |
| Jaguar Land Rover | Charging system lead engineer,Product Engineering |
| Jaguar Land Rover | Electrification group leader,Product Engineering |
| Jaguar Land Rover | Lead traction power elec engr, Product Engineering |
| Jaguar Land Rover | Engine technical senior manager, PE-Rotating machine |
| Jaguar Land Rover | Component development manager, PE-Rotating machine |
| Jaguar Land Rover | Component development manager, PE-Rotating machine |
| Jaguar Land Rover | Component development manager, PE-Rotating machine |
| Jaguar Land Rover | Component development manager, PE-Rotating machine |
| Jaguar Land Rover | Component development manager, PE-Rotating machine |
| Jaguar Land Rover | Component development manager, PE-Rotating machine |
| Jaguar Land Rover | Component development manager, PE-Rotating machine |
| Jaguar Land Rover | Program manager, PE-Rotating machine |
| Jaguar Land Rover | DV Manager, PE-Rotating machine |
| Jaguar Land Rover | Calibration Lead Engineer, PE-Rotating machine |
| Jaguar Land Rover | Calibration engineer, PE-Rotating machine |
| Jaguar Land Rover | Calibration engineer, PE-Rotating machine |
| Jaguar Land Rover | Calibration engineer, PE-Rotating machine |
| Qoros | Changshu base / Director of Manufacturing Engineering Department |
| Qoros | Senior stamping manager |
| Qoros | Senior assembly manager |
| Qoros | Senior coating Manager |
| Qoros | Principle Engineer of Manufacturing Engineering Department |
| Ford | Product Planning Manager |
| Foton | Chief engineer of high voltage system |
| … | … |
Conference Structure:
DAY 1

(April 12th)

Morning

National Policy, OEM's Development Route and Technology

Afternoon

Sub Forum 1

Sub Forum 2

Power Battery Technology and Battery Thermal Management

Motor, Electric Control and System Integration Technology

DAY 2

(April 13th)

Morning

Power Battery Technology, BMS and Battery Safety

Motor, Electric Control and NEV Powertrain

Afternoon

Thermal Management & Hydrogen Fuel Cell Technology

Electric Drive Technology

Charging Facilities Construction
You Cannot Afford To Miss:
Ø 2 Days of Content-Rich Sessions
Ø 50+ Esteemed and Professional Speakers
Ø 700+ attendees from 15+ Countries
Ø 300+ OEM participants
Ø Grand Award Ceremony
---
Organizing Committee Contact: Catherine TAN
Tel: +86(0)755-23300049
Email: catherine.tan@nevhx.com / catherine.tan@star-sz.com
Web: www.star-sz.com/nev