The Vehicle Lightweight International Forum 2019 Has Come to A Satisfactory Close
The Vehicle Lightweight International Forum 2019 was held on June 27-28, 2019 at the Mercure Hotel Kunshan Huaqiao, which is jointly organized by China Star consulting Company and Society of Automotive Engineers of Jiang Su. During the conference, a total of 20 authoritative speakers at home and abroad discussed the automotive lightweight materials, lightweight automotive components, lightweight structural design and advanced processing technology for 2 days. The event was full of highlights, the atmosphere in heated state and the participants were very enthusiastic.
Since its establishment, the Vehicle Lightweight International Forum has been widely concerned in this industry. Its growth and glory are inseparable from the strong support of all parties. In this regard, In this regard, we would like to express special thanks to the sponsors, supporting organizations, all participants and media friends for their support and participation.
The following are some guests photo and live photos:

First of all, Mr. XU Aimin, the Secretary General of SAE Jiang Su, delivered a speech and expressed warm congratulations on the convening of this event.

Each speaker has delivered wonderful reports and speeches during the two days event.

Brilliance Auto Lightweight Application and Trend Analysis of New Energy Vehicles TIAN Jiaping, Director of Project Management Office, Brilliance Auto

Lightweight Technical Route for New Energy Vehicle Power Battery Pack Mark Wu, Vice Director of Lightweight Technology Center, Automotive Research Institute, Tsinghua University

New Progress in Light-weight Of Automobile Panels BAO Ping, Chief Engineer for Automotive Panel, BAO STEEL

Novelis Aluminum Alloy • Body-in-white • Lightweight Solutions – Innovation • Openness • Green LIN Yan, Customer Solution Manager, Novelis

Lightweight Technology Application of Big Bus ZHANG Yong, Senior Manager, Central Research Institute, , Skywell Corp

Trend Analysis of Lightweight Materials for New Energy Vehicles KAN Honggui, Technical Manager, Body Design Institute, JAC Motors

Development of Aluminum Hood Structure for Pedestrian Protection Kashima Hiroko, Member of Researcher of Kobe Steel , Al & Copper R&D Section, Kobe Steel

Development of Aluminum Hood Structure for Pedestrian Protection Kashima Hiroko, Member of Researcher of Kobe Steel , Al & Copper R&D Section, Kobe Steel

Achieving Lightweight Body Structures Through Innovative Bonding & Reinforcing Solutions Asia Pacific Business Development Manager , Henkel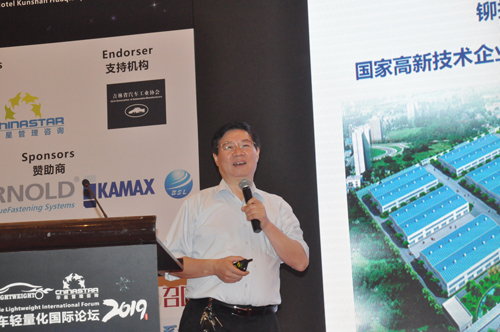 Automotive Lightweight Structure Connection Technology and Application CTO, BOSHILONG Technology

Research on Key Technologies of Carbon Fiber Collision Simulation ZHU Xuewu, Director, CAE Research Institute, FAW

High-speed Tensile Curve of Materials and Development of Battery Pack Plasticization Jackie Huang, Technical Director, JAC Motors

Introduction of DuPont Performance Automotive Lightweight Materials Solutions Benjamin PAN, Asia Pacific Automotive Marketing Manager, DuPont


Lightweight Joining Technologies for Aluminum and Hybrid BIW Design Bruno Götzinger, Head of Lightweight Technologies/ R&D, MAGNA STEYR

Lightweight Fastening Solutions for the Automotive Industry Sales Application Engineer , Arnold

Light-weighting of Automotive Joints Global Product Manager, KAMAX

Discussion on Stamping Process and Mold Design and Maintenance of Aluminum Alloy Body JIANG Changfu, Mold Repair Engineer of Stamping Shop, FAW-Volkswagen

The Future of Structural Components in HPDC WANG Benping, Team Manager, Application Technology, Bühler

Application of Natural Fiber Composites ZHANG Kai, Minister of Interior and Exterior, Baoneng Motors
At the same time, we also visited the Higer Bus Company Limited Co., Ltd. and Tsinghua University Suzhou Automotive Research Institute (Xiangcheng Institute).The following are some wonderful photos of this tour: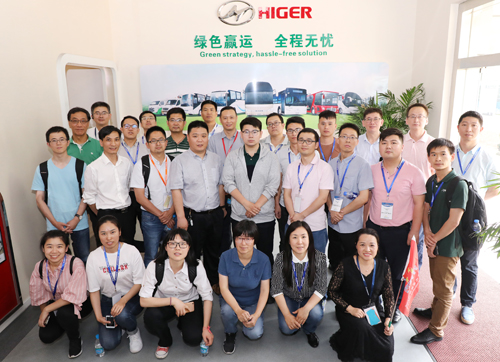 Finally, we would like to give our special thanks for the sponsors of this conference: Henkel, KAMAX Group, Boshilong Technology, Arnold Blue Fastening Systems Thanks for your strong support for this event.
Thank you again for your trust and support. We look forward to seeing you again in March 2020!
By the way, the Automotive Lightweight International Forum 2020 will be held in Shanghai on March 26-27, 2020 and sign up now.
Contact Us: Ms Mandy Mo, 0755-23300049 Email: mandy.mo@nevhx.com / mandy.mo@star-sz.com
Website:http://www.star-sz.com/lw